November 2015
The Leyendecker View
Thanksgiving Leftovers
Back to Top
"Gratitude can transform common days into thanksgivings, turn routine jobs into joy,
and change ordinary opportunities into blessings."
- William Arthur Ward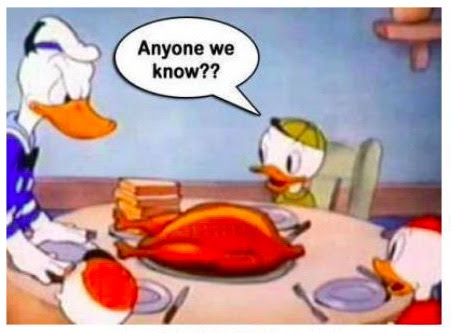 Happy Day After Thanksgiving! We hope you and yours had a wonderful holiday. In our commitment to helping you be lazy today, we present our third annual Thanksgiving Leftovers issue of TLV.
This year, we're peppering TLV with some quotes about gratitude. This world can be scary and unpredictable. And if we watch the news, that's all we'll think it is. But if we take the time to pause and look around at what's positive in our lives and our world—literally around us right now: family, delicious food, beautiful nature, a really comfortable sofa, a good sports came, incredible technologies, whatever it may be—we'll quickly be reminded that the world is overwhelmingly good and chock full of things for which we can feel grateful, every day.
With that said, sit back, relax, and nurse your Thanksgiving feast hangover with what we hope are some interesting bits, enticing videos, fun factoids and mindless entertainment.
"Gratitude is the inward feeling of kindness received. Thankfulness is the natural impulse to express that feeling. Thanksgiving is the following of that impulse."
- Henry Van Dyke


Publisher: Douglas Leyendecker
Managing Editor: Kelly Griego
Sit Back, Relax and Digest
"The pilgrims made seven times more graves than huts. No Americans have been more impoverished than these who, nevertheless, set aside a day of thanksgiving."
- H.U. Westermayer

Because it's not too late for some Thanksgiving facts
Choose to be grateful. It will make you happier.
Gratitude can be difficult because life can be difficult. In his
New York Times
column, Arthur C. Brooks points to a few studies that show merely choosing to be grateful about something, anything can make you feel grateful and happy. A caveat: One study showed that people began to crave sweets when they were asked to express gratitude. To make a habit of gratitude, start with "internal gratitude," the practice of giving thanks privately, Brooks suggests. Then move to "exterior gratitude," where you express your gratitude for others to them.
The benefits of gratitude
Being thankful every day—even for something as small as a sunrise—has proven to have so many health benefits that we should add a little Thanksgiving to all of our days. Follow the link or click the image to learn additional benefits of gratitude, some research and data on it and tips to have more of it.
Pilgrims, Provincetown and Plymouth
On November 11, 1620, 102 passengers, including pilgrims, servants, crew and animals, left an English port in search of civil and religious liberty. Sixty-six days later, the Mayflower anchored in what's now Provincetown Harbor, Massachusetts. This video provides a quick refresh of how the pilgrims settled in Plymouth and signed a set of laws (the Mayflower Compact) that set the foundation for democracy.
The first Thanksgiving vs. today's Thanksgiving
The first Thanksgiving meal, which was held in November 1621 and attended by 53 colonists and 90 Wampanoag Native Americans, looked quite different from ours today. While there's no official record of this feast, the Plymouth colony's governor, William Bradford, sent men "fowling" for birds the colonists regularly ate, including ducks, geese and swans. The meal might have included turkeys, although there's no historical confirmation that it did. The Native Americans brought an offering of five deer. Follow the link for more detail on what culinary historians (yes, they are a thing, apparently) think was likely eaten at the first Thanksgiving. Click the image for the full graphic comparing our holiday to the original.
The origins of the Macy's Thanksgiving Day Parade and its balloons
The first Macy's Thanksgiving parade was held in Manhattan in 1924. It culminated in front of the Macy's building on 34
th
Street to debut the retailer's elaborate holiday windows. In 1927, Anthony Frederick Sarg, a German immigrant, puppeteer and theatrical set designer, introduced the massive inflatable balloons around which the parade now centers today.
The original rubberized silk balloons were made by Goodyear Tire & Rubber Company. Originally filled with oxygen, they had to be propped up by teams of puppeteers as they paraded down Broadway. The next year, the parade would end with the release of the by-then-helium-filled balloons into the city skies. This tradition continued until 1932, when a student pilot and her instructor
attempted to capture the balloons in a biplane
. The plane's wing got tangled up in the Tom Kat balloon, causing the plane to tailspin as thousands in Queens watched in horror. The student and instructor switched seats, and the instructor was able to prevent the planeer and theatrical set designer, from crashing. But their foolishness and near demise put an end to the crowd-pleasing tradition of releasing the balloons. Follow the link for more images of early Macy's parade balloons.
Ever wonder whom you have to thank for your Thanksgiving turkey?
Odds are, your turkey came from Minnesota, North Carolina or Missouri. These three states were responsible for half of U.S. turkey production and employment in 2014. Of the 11 states comprising most domestic turkey production, Texas has the smallest turkey industry, creating 74 jobs in 2014. Thank goodness Texas relies on oil, not turkeys.
Because you're too full to move—take a trip, right from your sofa
"Gratitude is the healthiest of all human emotions. The more you express gratitude for what you have, the more likely you will have even more to express gratitude for."
- Zig Ziglar

Lesser known natural wonders of the world
Turns out, there's a crater that's been on fire for about 40 years in Turkmenistan. In Madagascar, there's a forest of "limestone needles" so dense, it's nearly impenetrable by humans. Travel to these and eight other incredible, lesser known wonders across this great Earth.
Thanks for reading The Leyendecker View. We hope you find these perspectives unique, insightful and valuable.

We at Leyendecker & Associates are committed to the highest standards of value creation.
| | | | |
| --- | --- | --- | --- |
| | | | |
| Doug Leyendecker | Jim Ford | David Prodoehl | Kelly Griego |
| | | | |
www.leyendecker.com